Tallahassee Realtors Give Back
"It is not fair for you to ask of others, what you are unwilling to do yourself."
~Eleanor Roosevelt
Armor Realty Build Day at Habitat For Humanity House!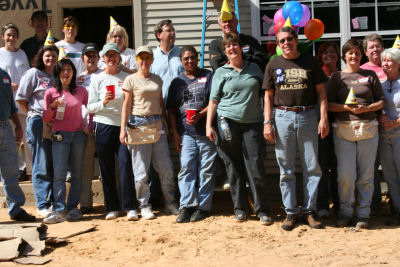 Ever wondered what Realtors do in their precious spare time? Many, Many Realtors connect with the community on a daily basis. Whether meeting with people on a daily basis, or attending a City or county commission meeting, or even when taking kids to school or attending ball games, Realtors are with people every day. Tallahassee Realtors have a great sense of community and recognition of the needs of those in need. We are quick to answer the call and to lend a hand.

Often, Realtors donate to the causes that benefit others. More than money, they give of their time and energy. I am proud to call Tallahassee my home. It is where I was born, where I raised my children and where my extended family lives and works. Helping those in the community is important to me.

Here are just a few photos and posts of events we participated in recently:
ABC's Extreme Home Make-Over - Tallahassee - March 2009
Many Realtors volunteered in this build whether manning a VIP tent, serving meals during the 107 building hours, site preparation and planning, construction supervision, site clean-up, painting, roofing, and even the portion I helped with, the Green Certification of the home.


Tallahassee Marathon - February 2009
The Tallahassee Board of Realtors volunteered to man the water and aid stations for the marathon. We arrived during the wee hours of the very cold morning and welcomed the runners, some very well known and others strong and filled with motivation!
Join me again for the 2010 Tallahassee Marathon !
Great American Realtor Days - Annual Event
Over 1500 Realtors gather during the Florida Legislative Session to bring to the attention of lawmakers the needs of the citizens of Florida and the issues facing their ability to afford and own homes. We meet with our legislators, participate in our Public Policy Committee hearings and gather to support other Realtors from throughout the State in their efforts to protect their industry and ability to provide services to the citizens of Florida. Being active in my association with the local and State Realtor Associations is very important to me. I will be there to help insure the citizens of Florida have a voice at the Capitol!

Realtors support the Protection of the Sadowski Fund that provides assistance for affordable housing programs in Florida.

I'm happy to participate in charities, and events that have not only meaning in my life but in the lives of my friends, fellow Realtors and community. Great relationships are made while helping those around us!
May 8, 2009 Relay For Life - American Cancer Society
Tallahassee Realtors for Relay Raised over $30,000 to help find a CURE for Cancer. This year, many of our members, or family and friends have been struck by cancer. Some have survived, some struggle still, and some we have lost. We walk to support research, support programs until there is a cure.