Linene Woods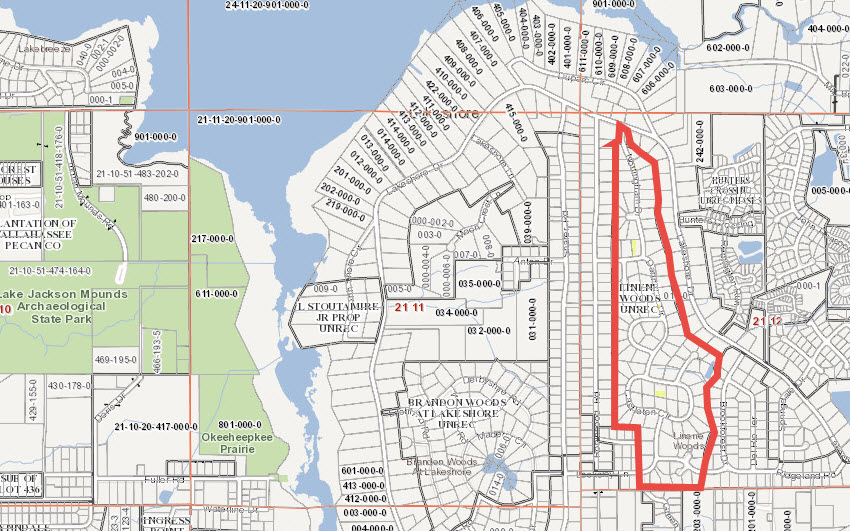 Locksley Lane
Tallahassee,
FL
32312
Linene Woods Real Estate
Fall in Love with Linene Woods
If you are in the market for a gorgeous escape from the hassle of Tallahassee, Linene Woods may be perfect for you! Check out this beautiful landscape that provides scenic views daily. This neighborhood is in a wonderful location, having both quick access to Lake Jackson and very quick access to the heart of the city! Visit this gorgeous area, and you will surely develop an extreme fondness for this established Florida neighborhood.
Key Features of Linene Woods
The Homes
An aesthetically pleasing landscape can be found in the Linene Woods neighborhood. Homes are surrounded by plenty of trees, giving lots of shade from the bright Florida sun. In addition to the established homes, there are a few new construction homes for those looking for more of a modern lifestyle in this peaceful area.
The Neighborhood
Linene Woods is a short drive to the heart of the city, being just an 11-minute drive to downtown Tallahassee. Both the natural and added landscape add tremendous value to the neighborhood adding another reason why this neighborhood is in high demand. This neighborhood offers a variety of architectural styles for you to choose from when selecting your next dream home.
---
Find Homes for Sale in Linene Woods
---
Selling Your Linene Woods Home?
Thinking about selling your Linene Woods Home? But maybe you don't know quite where to start. Luckily for you, our team of local experts in the area is here to help you with any questions you may have. Reach out to us today and tell us all about your home!
---
The Details on Linene Woods
Shopping & Dining
Want to live in a place with quick access to great shopping and food? Linene Woods is readily accessible from any of the major shopping centers in Tallahassee. Are you a foodie at heart? Be sure to sample the Gator Hater from Wells Brothers Bar and Grill and the Red Velvet Pancakes from Prime Time. No matter what your favorite meal of the day is, Tallahassee will quickly fill your heart (and your stomach) with some tasty favorites!
Recreation
Another bonus of living in Linene Woods is the proximity to some of the best outdoor activities in Tallahassee. The Saint Marks Trail, the Tallahassee-St. Marks Historic Railroad State Trail, and the Lake Overstreet Trail are just a few options for the outdoor adventurer. For more recommendations on recreation around Tallahassee, reach out to our team today!
Public Schools
Florida has an exceptional public school system, and those who live in the Linene Woods subdivision reap the benefits of this educational system. Some of the options for schools for students in this neighborhood include Sealey Elementary, Raa Middle School, and Leon High School.
---
Contact the Linene Woods Real Estate Experts:
Has Linene Woods piqued your interest and are you eager to learn more? This beautiful neighborhood is drawing a lot of attention for its picturesque views. Contact me today to get a head start on finding your new home!